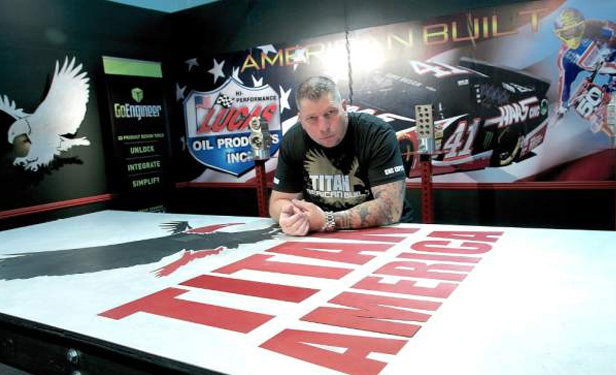 Titan America, CNC Machining Experts, Industrial Place, near Lake of the Pines. Titan Gilroy, CEO, Owner. Titan Gilroy holding a machine made item at the shop, and one of his paintings on the wall. Photo Credit – John Hart/jhart@theunion.com | The Union
From rage to redemption
Local manufacturer airs reality show, displays ability to push limits
Talk to Titan Gilroy about his life and try not being inspired.
From being a hungry and homeless child, to a young championship boxer serving heavy prison time, Gilroy has lived a roller coaster life, yet defied all odds in persevering through tough times, and finding redemption in changing lives through his own high-end manufacturing business in Grass Valley, Titan America CNC Machine Experts.
"I had been around violence my whole life," Gilroy said. "I was around certain people and went in the wrong direction. I couldn't get the streets out of my system, I didn't know how to be a man. I didn't have brothers or a dad, I did it my own way, but as soon as I got on the right path things became far bigger than I could have ever imagined."
Gilroy is bringing his story of hope realized to television audiences across the nation through a reality show, Titan American Built, which, on Friday, aired its first episode on MAV TV. With the show, Gilroy has one bold mission in mind — to prove that American manufacturing is not dead.
"I'm pro-trade, pro-world and pro-everything," Gilroy said. "I just believe that we should make our parts here in America. Other countries have learned from us because we built this great country on manufacturing. We're a nation that builds things, we're innovators. When you build your own products you prosper."
The show, which will air every Friday at 7 p.m., chronicles Gilroy and his manufacturing team as they take on difficult high-end projects posed to them by different American companies from the aerospace, medical, and sporting industries.
Shot by his own in-house media company, Gilroy says the show is about great American stories, and aims to teach America how to manufacture again, by pushing the limits of what is possible.
"People are going to watch this show and know that manufacturing can be done in Grass Valley. That's no joke," Gilroy said. "Other companies going into the high speeds they're going maybe 200 inches per minute they think they're going really fast. But we're going 800 inches per minute. We're doing things that have never been done before."
Directed by Christian Meyers, of America's Most Wanted, Meyers said the reality show will change lives and lift people up for the better.
"We're in the entertainment business but there's no reason why we can't inspire people in a positive way," Meyers said. "That's something shows nowadays have lost."
Through Gilroy's life story, viewers will get to take an intimate look into Gilroy's transformation from rage to redemption.
"My faith is very important to me," Gilroy said. "I've seen people die and seen people get hurt and I felt like my mind was demented because it didn't affect me like it affected other people. I hit the bottom, I got on the wrong path, I'm on the right path now and gave my life to the lord, and that's when my life took this crazy turn."
As a young child, Gilroy remembers being homeless and sleeping on a beach with his mother.
"My mom is a great woman, she just married an alcoholic," Gilroy said. "She escaped several times and she took me to Hawaii, everything fell through and we had nothing so we ended up on the beach starving."
Growing up in Maui with not much financial support, Gilroy said he got into trouble throughout his adolescent years, getting kicked out of a myriad of different public schools. So with nothing to lose, Gilroy walked into St. Anthony High School in Wailuku to talk with educators about his life.
"They gave me 50 percent of my tuition for free," Gilroy said. "And they actually got me a job, and a place to live and took it upon themselves to get me to graduate when I was like a straight F student."
Gilroy became a prospective amateur boxer going 35-3 in 38 fights, and winning championship bouts such as the San Francisco Golden Gloves. At the age of 22, though, Gilroy got into a confrontation where he connected with a punch that gave a man permanent brain damage.
He was charged with assault and sentenced to 15 years in a Hawaiian prison. Gilroy would serve just under three years of his sentence, though, as he says Top Rank Boxing would eventually help to get him out.
"Right when I was turning pro I hit a guy in a night club in a place where I shouldn't have been," Gilroy said. "And when I got out I had somebody threatening my life for a two week period. He assaulted my wife, and I ended up hitting him and doing the same thing and I just ended up walking away from boxing. I walked away from violence."
In 1996, Gilroy moved to Sunnyvale and got a job for nine dollars and hour at a machine shop. Within one year he was the shop foreman, heading the companies production.
"Ever since I stepped into this trade to form metal, and to cut metal, I've just always been able to do it," Gilroy said. "And when I walked into a machine shop I just always could do it."
Gilroy would go on to open his own manufacturing business, Titan Engineering, located at 22840 Industrial Place in Grass Valley. Gilroy says his company began producing for big names in the industry, banking millions of dollars a month. But in 2008 the company almost lost everything when a robotics company in Davis went south.
"Even when I was saving them 50 percent in manufacturing costs, it didn't matter," Gilroy said. "Everything got put on hold and there was like no jobs. I had to lay off around 40 employees."
Having been "saved" as a Christian at Word Alive Church in Penn Valley, Gilroy turned to his faith to get him through tough financial times. Gilroy recalls praying a lot during that time.
"One day I was praying, driving down 49 I looked up and this huge eagle came right over my truck and flew with me down the road," Gilroy said. "Like I was just looking up at it, and never in the history of the world. Never before, never after."
Gilroy said the eagle followed him down the highway till he hit Auburn and flew away. When Gilroy got home he told his wife he needed to change the name of his company to Titan America.
"And she said 'you should do an eagle for the logo,'" Gilroy recalls. "I was like, that's crazy. So she designed the eagle as our logo. It was a new beginning."
Since then, Gilroy says the company has gone nowhere but up, and although Gilroy says the company plans to move their operations from Grass Valley to Rocklin, through the show, and sponsors such as Autodesk and Haas Automation, Gilroy plans to continue to give back to the surrounding community as much as he can.
"Everybody is saying manufacturing is dying," Gilroy said. "Yet you have a show about someone who was homeless and in prison and he's doing it without any help from the government. If he can do it than why can't everybody else? If we embrace technology and do it the way it's supposed to be maybe we can bring these jobs back."
To contact Staff Writer Ivan Natividad, email inatividad@theunion.com or call 530-477-4236.
This article was written by Ivan Natividad for The Union originally posted on TheUnion.com