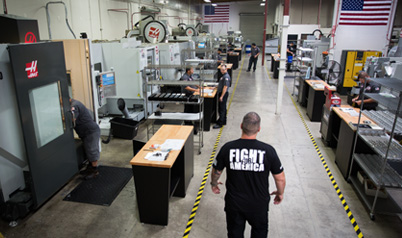 Located in Rocklin, California, a small town at the base of the Northern California foot-hills, Titan America MFG is home to one of the truly elite manufacturing facilities in the nation. Founded in 2005 by Owner and CEO Titan Gilroy, Titan America MFG brings unique passion and vision to CNC Machining, Customer Care, and Community Involve-ment.
The shop uniforms at Titan America display a patch that reads "CNC Machining Expert", and each employee wears that patch as a badge of honor, and as a standard of workman-ship. Average is unacceptable, innovation is the norm, and the results translate into a re-lentless pursuit of perfection. The culture at Titan America MFG starts at the top, and to understand the vision you must understand the visionary.
Titan Gilroy is an artist and a builder who draws upon his unique blend of detailed per-fectionism and aggressive ambition to set the pace for Titan America MFG. After leaving his professional boxing career behind, Titan took a job as an entry level machinist. As an outsider to the industry Titan saw things differently and took it upon himself to push the machines to do what others called impossible. He made a name for himself, and became the lead man for top shops thanks to his talent as a programmer and vision as a leader. As owner of his own company, Titan views the shop as a canvas and leaves no brush stroke to chance.
QUALITY AND INSPECTION

Titan America MFG has been built on a foundation of quality, and taking a walk around the shop you will see that every decision made is designed to support that foundation. Work tables are standardized – inspection equipment kept segregated and protected at each work station. Inspection documentation is mandatory – every job that enters the shop generates inspection criteria that is maintained throughout the process. At Titan America MFG quality initiatives come from the top, and saturate every layer of the company.
With the steady foundation of quality in place, efficiency is developed and expected from each one of the CNC Machining Experts. Efficiency comes from having the proper resources available – cutting edge software, innovative techniques, advanced tooling – and then having the knowledge to know when to push hard and when to pull back.
Titan America has generated a culture of innovation which has brought the team to the fore-front of intricate ultra-precision machining, as well as high speed production machining.
GIVING BACK
Titan's passion to champion manufacturing does not stop at the doors of Titan America MFG. Titan and his team are committed to giving back to the industry that has given them so much. Speaking at colleges across the country, Titan inspires young machinists to break through the restraints of how things used to be done, and to go hard after their dreams. Working with the California Department of Corrections and Rehabilitation at San Quentin Prison, he has developed state of the art CNC curriculum to give inmates hope of employment and stability on the outside. Team Titan has also put down deep roots in the community by supporting local causes such as autism awareness and women's shelters.
Titan America MFG has been given an amazing platform to impact lives, and aims to make the most out of that opportunity through supplying parts to companies that are changing the world as we know it, and by raising up the next generation of difference makers. Join us by seeing what the CNC Experts can do for you company, and what we can do together to change the world.